High Level Installation Works

You can hire our rope access technicians to perform a variety of works at height.
By using safety and rigging equipment, Alp Star specialists can provide the following services:
Erection of steel structures of any size and complexity (trusses, beams, arch systems);
Installation of air ducts and ventilation vents;
Installation of lightning protection systems (air-termination systems and down conductors);
Lifting and installation of glass units (Kyiv);
Installation of ventilated façade panels;
Installation of outdoor security cameras;
Installation of rainwater systems and snow guard systems;
Installation of external window roller shutters;
Mounting of antenna-feeder devices (mobile telecommunication equipment);
Installation of satellite antennas;
Laying cables and feeders at height;
Balcony and bay window roof repairs;
Replacement of weatherbars, canopies, drip edges and deflectors on building facades;
Mounting of outdoor and decorative lighting systems;
Installation of stage structures and decorations;
Repairs and installation of snow melting and anti-icing systems;
Installation of safe high level access and fall protection systems (guardrails and walkways).
Of course, this long list is not comprehensive as the full range of works, which are frequently required be done at height, is difficult to imagine. But we can definitely say that our broad experience, up-to-date and vast material and technical resources as well as unconventional approach to manage complex tasks will help to perform any types of installation and repair works at height (Kyiv).
If you want to invite our specialist or to hire our services, feel free to call us at +380 67 258 2999 or e-mail us at alpstar.kiev@gmail.com
---
In order to communicate effectively your needs, please read below just a few quick tips describing specific aspects of rope access services.
If you want to get a desired result, it is necessary to set a task in a proper way. The most reasonable way for both parties is to present relevant design documents or drawings of a structure or system to be installed as such documents usually contain all wind and snow loads, metal profile thickness and type, mounting specification, etc. But unfortunately, such technical documentation is often missing. Occasionally, this is caused by no reasonable need in developing design documents, but sometimes the main reason is simply to cut down expenses. Whatever the case, Alp Star industrial abseilers will help you to perform installation works in the best and most efficient way possible.
It is obviously that each type of installation works at height has its own specific features. To have a job done quickly, it is recommended to think out the following issues:
Facility access rules and requirements (in case of restricted access or guarded facilities);
Procedures for communication with various services at the Client's facility (occupational safety and health service, quality assurance department, procurement and supply department);
Instructions for storage of rope access and rigging equipment and tools for working at height;
Procedure for delivery and acceptance of works performed.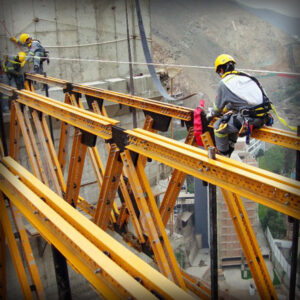 Erection of welded steel structures (Kyiv) such as roof supporting trusses, glazing support systems, steel arches for canopies and hangars, mounting structures for fire extinguishing and suppression systems.     Assembly of masts for antenna-feeder devices (telecommunication equipment). Assembly of steel structures for radio towers.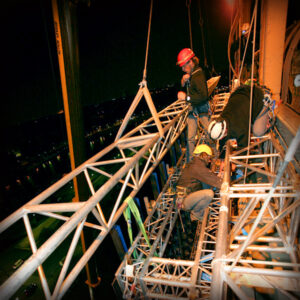 Installation and assemble of stage structures (Kyiv). Lifting and mounting of trusses for fixing light and sound fixtures in concert halls and cinemas. Installation of safety harness (fall protection equipment) for videographers and actors. Lifting and fixing of hoisting winches and pulley hoists. Screening of reflective foil insulation and reflecting barriers.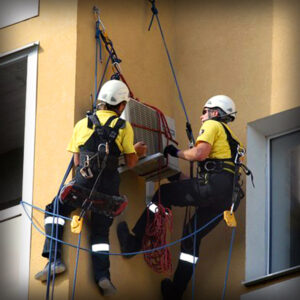 Lifting and installation of air-conditioning outdoor units and AC split systems. Rope access technicians can mount AC units both to blind walls and facades with windows and balconies. Block and tackle systems are used to lift and hold outdoor units during their installation. How to fix AC support brackets depends on the type of façade cladding, AC unit weight, and wind loads in certain region.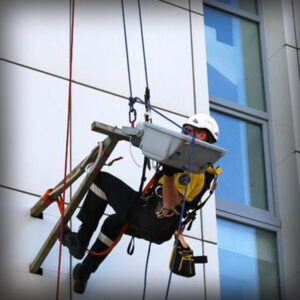 Outdoor lighting installation (Kyiv). Installation of mounting brackets for illumination systems, installation of light fixtures, connection of all devices to power mains. In such case a specialist is required not only to know how to work safely at height, but also to be experienced in electrical engineering.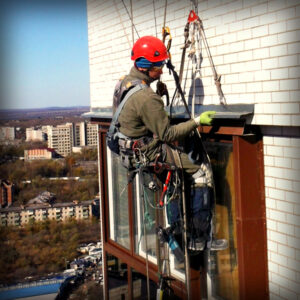 Installation of metal drip caps, flashing and canopies (Kyiv). Production and installation of elements made of zinc coated or painted steel sheet with thickness of 0.45-0.55 mm and over. Water leak and ingress rectification of roofs, balconies, bay windows. Installation of flashing with thermal insulation. Installation of decorative weatherbars. Installation of external window sills.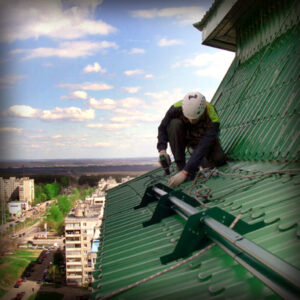 Installation of snow guard systems (Kyiv). Arrangement of rainwater systems. Installation of gutters. Rope access installation of snow melting and anti-icing systems (Kyiv). Installation of air-termination systems and down conductors at high-rise buildings and structures.