Installation and Dismantling of Advertising Structures (Kyiv)
The distinguishing feature of outdoor advertising installation in Kyiv is a rather frequent use of non-standard structures mounted at high heights or in hard-to-reach areas.
Alp Star provides all types of services in installation of advertising signage of various configurations, at any height. By using industrial rope access techniques, you will definitely get your advertising media installed and dismantled in a safe, fast and cost-effective way!
We are happy to offer you the following professional signage services:
Installation of banners (wallscapes, building wraps). Production of frames, mounting of illumination systems, banner cleaning;
Installation of light boxes. Changing lamps, repairs, dismantling;
Installation of light fixtures;
Installation of dimensional letters on façade or rooftop;
Installation of over-the-street banners, signs, flags, posters;
Decorating façade or shop windows with self-adhesive film (e.g. Oracal film);
Printing of wallscapes (banners) at affordable prices.
If you want to get qualified advice on technical and organizational issues as well as to get a more accurate cost estimate and duration of works, it is highly recommended to invite our specialist. The visit and consultation are FREE OF CHARGE.
Alp Star has all relevant approvals and permits authorizing work at height. We guarantee the promptness and high quality of outdoor advertising installation services provided by our rope access company in Kyiv and other cities.
| | | |
| --- | --- | --- |
| Type of Services | Measurement Unit | Cost of Services, UAH |
| Installation of wallscape frame | LM | 230 |
| Installation of banner | sq. m | 45 |
| Changing banner image | sq. m | 50 |
| Banner removal | sq. m | 35 |
| Installation of spotlights | pcs | 350 |
| Changing lamps (bulbs) | pcs | 150 |
| Cable laying (horizontal) | LM | 40 |
| Cable laying (vertical) | LM | 25 |
If you want to invite our specialist or to hire our services, feel free to call us at +380 67 258 2999 or e-mail us at alpstar.kiev@gmail.com
---
Just like any type of work, installation of outdoor advertising structures has its own ins and outs. If you want to get an eye-catching and durable signage solution, we highly recommend to read the information below.
Wallscapes, Building Wraps, Vinyl Banners
(To read about another types of advertising media, go to ARTICLES section)
This type of advertising is rather popular in big metropolitan cities as being placed in landmark locations (often at big heights), it helps to attract a maximum number of target customers. In addition to the height of sign installation, it is also important to consider visibility and viewing angle of wallscapes. A rule of thumb states that in Kyiv banners are commonly placed on buildings facing big squares and wide avenues.
The next step is obtaining all the necessary government approvals as well as consents from an owner and/or residents of the building. At this step, you will be requested to provide a design of signage structure and image layout. When designing the structure, it is necessary to carefully consider a type of banner material and especially a frame because due to a large area and location of a banner, the structure is subjected to strong wind pressures (this parameter differs in each geographic area). Miscalculations or improper installation can result not only in the loss of the entire structure, but also in substantial damage to the building and cars as well as injure pedestrians and visitors.
Upon all calculations made and all documents in hand, it's time to go ahead with performance of works. Works can be divided into two parts: preparatory works (banner printing, production of support brackets for banner frame and lighting) and banner installation works.
Banner Material. In case of medium size banners, vinyl is commonly used for printing banner image (photo 4). But in case of large banners, mesh banner material is often used in order to reduce loads on the banner structure. Moreover, mesh weave is lightweight, allowing a quick and easy installation, which helps you to save your money. In addition, it is a cost-effective signage solution thanks to using a lightweight steel structure as mesh material creates smaller loads on it. Like vinyl fabric, PVC mesh banner material has different thickness (weight kg/sq.m). The greater the thickness, the more durable, and, consequently, the more expensive the material is. To properly choose the right thickness of banner material, it is necessary to know its expected lifespan.
Banner Fixings. To fix the banner to its frame or a wall, once printed, grommets (eyelets) (photo 1) or pole pockets (photo 2) are placed around the perimeter of the sign. Grommets are the most cost-efficient, but less durable, type of fixings. And grommets fail often to withstand high wind loads.
Based on our proven record of sign installation experience, there are three types of banner fixings in Kyiv, namely: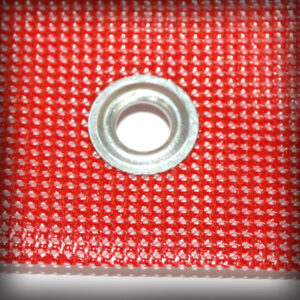 Fixing the banner to the building wall using grommets and screw anchors. This method is the most budget-friendly and quick-to-install.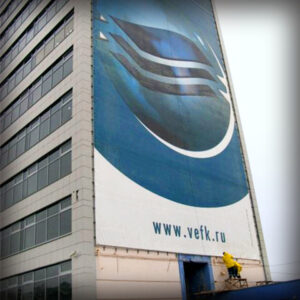 Wall mount bracket system. The profile thickness is calculated by a design engineer based on wind loads.
Let's consider each of these fixings in detail.
Grommets (eyelets). It is recommended to use this method for fixing banners with area of not over 40 sq.m and only directly against the wall. When delivering the banner by the manufacturer, it is necessary to check the quality of installation of grommets (photo 3). Also, the attention should be drawn to the inner hole diameter, which should not be less than the diameter of screw anchors.
Wall mount bracket system. This method of fixing is the most reliable one. Steel brackets are affixed to screw anchors or bolts fixed to the wall around the intended perimeter of banner material. An interval of brackets is calculated based on the structure weight or façade features. It is important to know that only plastic or chemical resin anchors can be used for brick walls, and metal anchors should be used for concrete walls. A special hole is made on the bracket end during fabrication. Metal tension screw with hook is inserted into this hole for stretching the banner material around the perimeter. The tension screw is hooked to a profile tube that is inserted into the pole pocket around the banner perimeter. Thanks to this tube, wind load is uniformly distributed throughout the entire banner area.
Slings are used in very rare cases. This method is reliable but rather labour-intensive. Very often, this method is applied when the building's owner prohibits to drill holes in the façade to fix brackets. In such case, metal steel rope sling of a proper diameter is inserted into the pole pocket and stretched to the sides.
In addition to installation of advertising banners and signage, Alp Star rope access technicians are hired to perform the following works:
Banner dismantling (Kyiv);
Advertising banner and signage removal in Kyiv and other cities of Ukraine;
Fabric or vinyl mesh banner cleaning;
Advertising signage cleaning;
Repairing dimensional letters (Kyiv);
Light boxes and signboard repairs (Kyiv);
Outdoor lighting installation;
Installation of external building illumination systems(Kyiv);
Cable laying at height;
Roof sign installation (Kyiv).
Place your trust in our reputable experience and good faith approach in delivering reliable abseiling services for advertising industry.